Awana is an international, Bible-centered children's and youth ministry program. AWANA is an acronym that comes from the first letters of Approved Workmen Are Not Ashamed as taken from 2 Timothy 2:15. Awana is our Sunday night children's ministry program for 3 years old through 6th grade. We meet weekly, 5:30pm to 7:40pm on Sunday evenings to introduce children to Christ and build a biblical foundation for faith. Our weekly club meetings aim to reach and train children and youth with the Gospel of Christ by blending Bible teaching, Scripture memorization and fun through organized circle games. Awana is centered on the gospel and Bible memory is a key element of our curriculum. We want to partner with you to raise kids to know, love and serve Christ for life through a fun, dynamic approach to learning God's Word.
To those joining us for the first time this year, welcome. To our returning clubbers, welcome back! This year, once again, we have many exciting events planned for the year.
Our Clubs:
Time: 5:30pm - 7:30pm
Cubbies (3-4 Year Olds)

Spakers (K-2nd Grade)

Truth & Training (3rd-6th Grade)
Time: 3:30pm - 5:30pm
Trek/Journey (7th 1 12th Grade)
AWANA registration is NOW ONLINE and must be completed prior to attending club.
CLICK HERE FOR ONLINE REGISTRATION INSTRUCTIONS
CLICK HERE TO REGISTER AS AN AWANA VOLUNTEER
ATTIRE: Our exclusive circle games generate maximum fun each week. Therefore, comfortable clothing, preferably shorts and sneakers or tennis shoes must be worn for game time!
COST: Visitors are always welcomed at no cost. Children are welcomed to join throughout the year. Should you and your child decide to join our AWANA program, the costs are as follows:
Dues: $22 for the first child, $11 for each additional child.
REQUIRED:
HANDBOOK - $33 for Cubbies, $30 for Sparks, $40 for T&T, $50 for Trek, $50 for Journey
UNIFORM - $16 for Cubbies, $16 for Sparks, $20 for T&T, $20 for Trek, $20 for Journey
OPTIONAL:
BOOK BAG - $10 for Cubbies, $10 for Sparks, $11 for T&T, $19 for Trek
CD - $9 for Cubbies and $13 for Sparks
CLUB T-SHIRT - $15 for Cubbies, $15 for Sparks
Limited scholarships are available through the church. Please speak to your club Director, Leader, any of our Secretaries, or club Commander for more information.
Handbooks become progressively more challenging for older children. We believe that memorizing and learning God's Word will make a difference more than any other activity in your child's life. Most children can complete their handbook if they invest 10-15 minutes a day by working on their handbook. Parents, we are requesting your help in prioritizing this activity in your child's life.
Uniforms are an important component of the AWANA ministry. Without uniforms, clubbers have no blace to display achievement awards, so incentives for passing handbook sections are compromised. Children also enjoy belonging to clubs. A uniform reinforces this sense of community and encourages an orderly and disciplined club.
Throughout Scripture, awards are given in recognition of special achievement that is intrinsically motivated. There are two types of awards at our AWANA Program: Individual and Team. Throughout the year, clubbers are encouraged to earn achievement awards to display on their uniforms as they progress through their handbooks. Special recognition and Book Completion Awards are awarded during the Awards Ceremony at the end of the year.
Competition is a part of the AWANA program just as it is part of our everyday lives. The AWANA point system is set up to be fun, well-rounded, and team oriented. Clubbers can earn points in every segment of club. Total points come from physical, mental, and behavioral abilities so everyone has a chance to be on a winning team.
---
---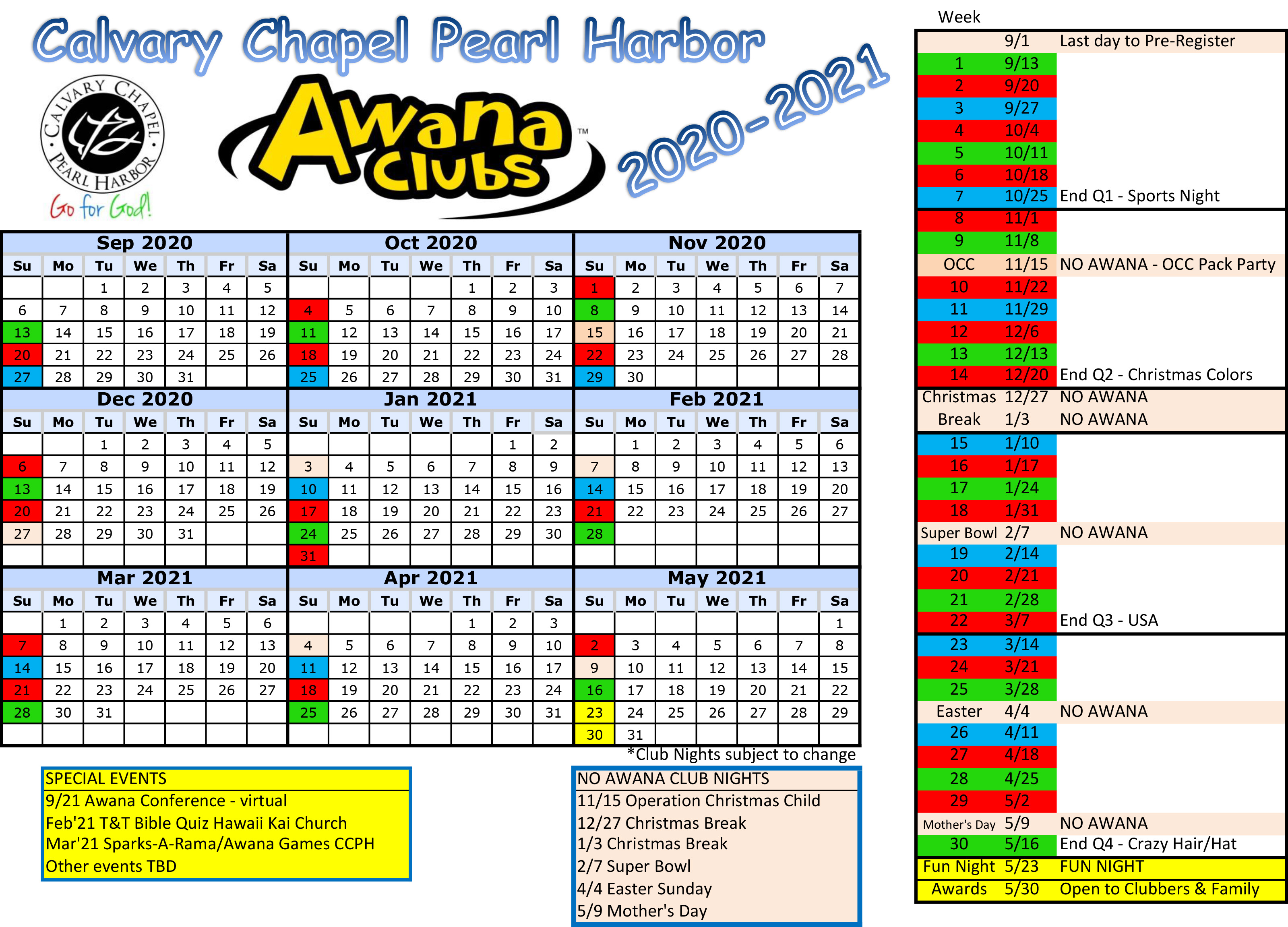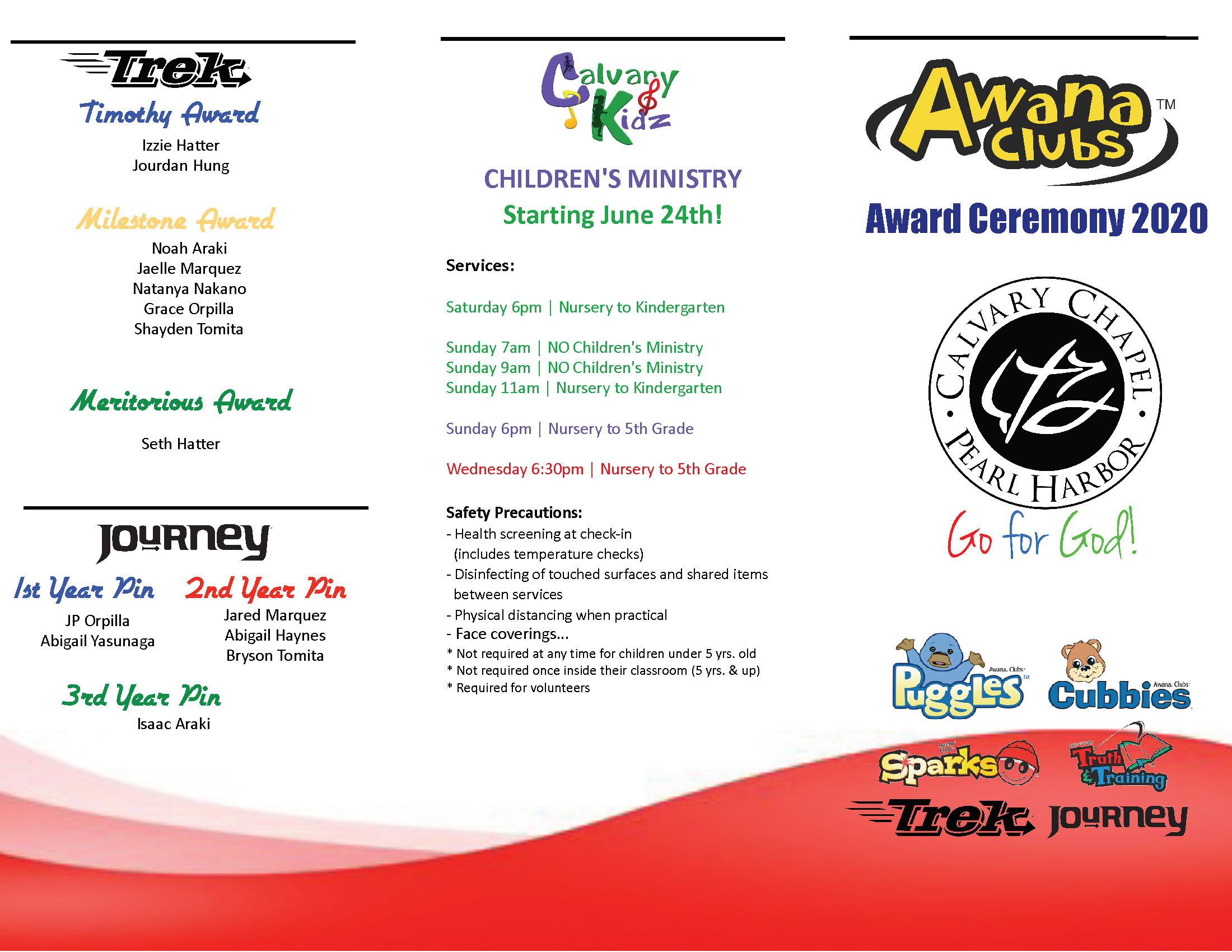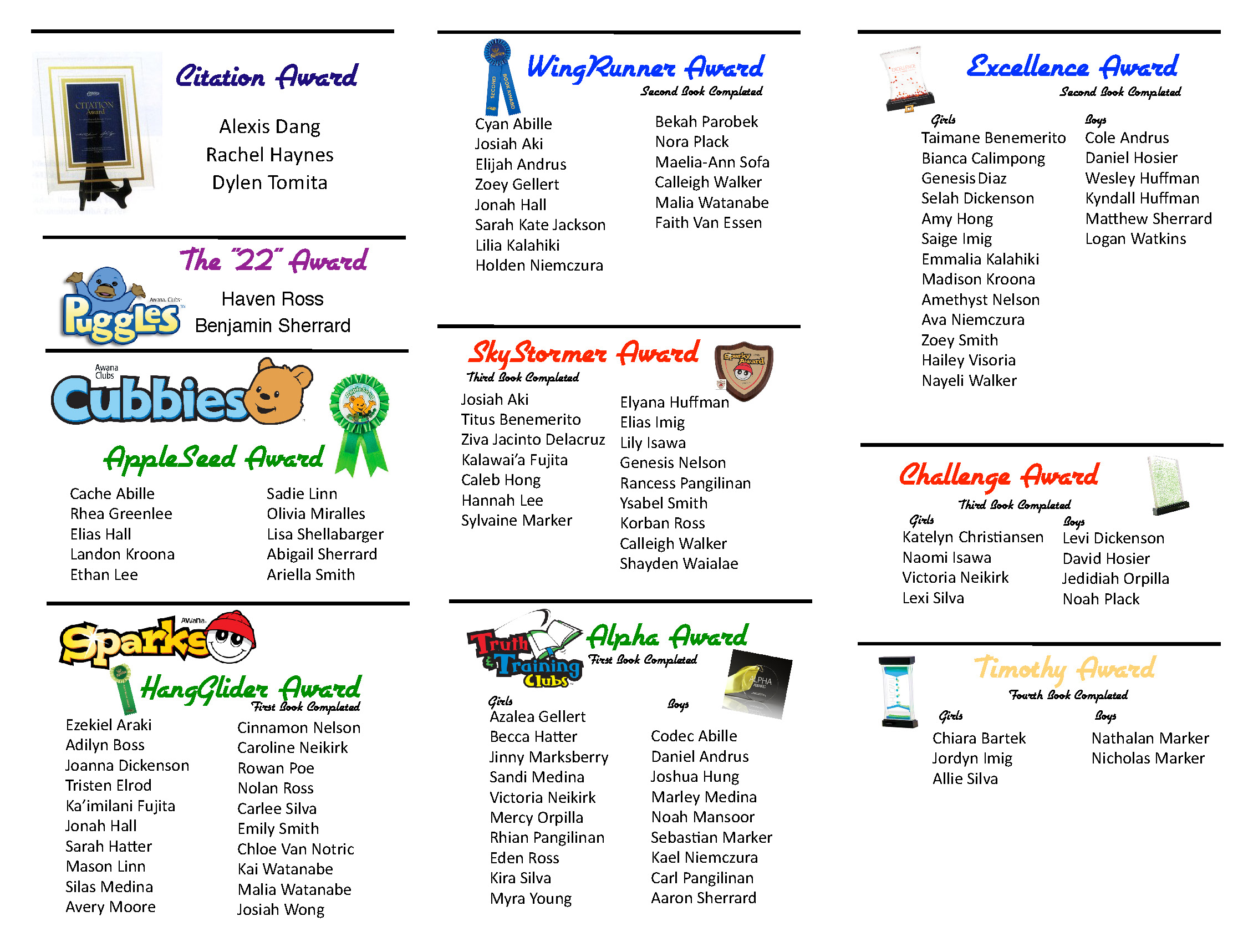 printable 2020 Awana awards list