1) What is a Baby Dedication?
2) Parent & Family Dedication
3) Schedule a Baby Dedication
---
1) What is a Baby Dedication?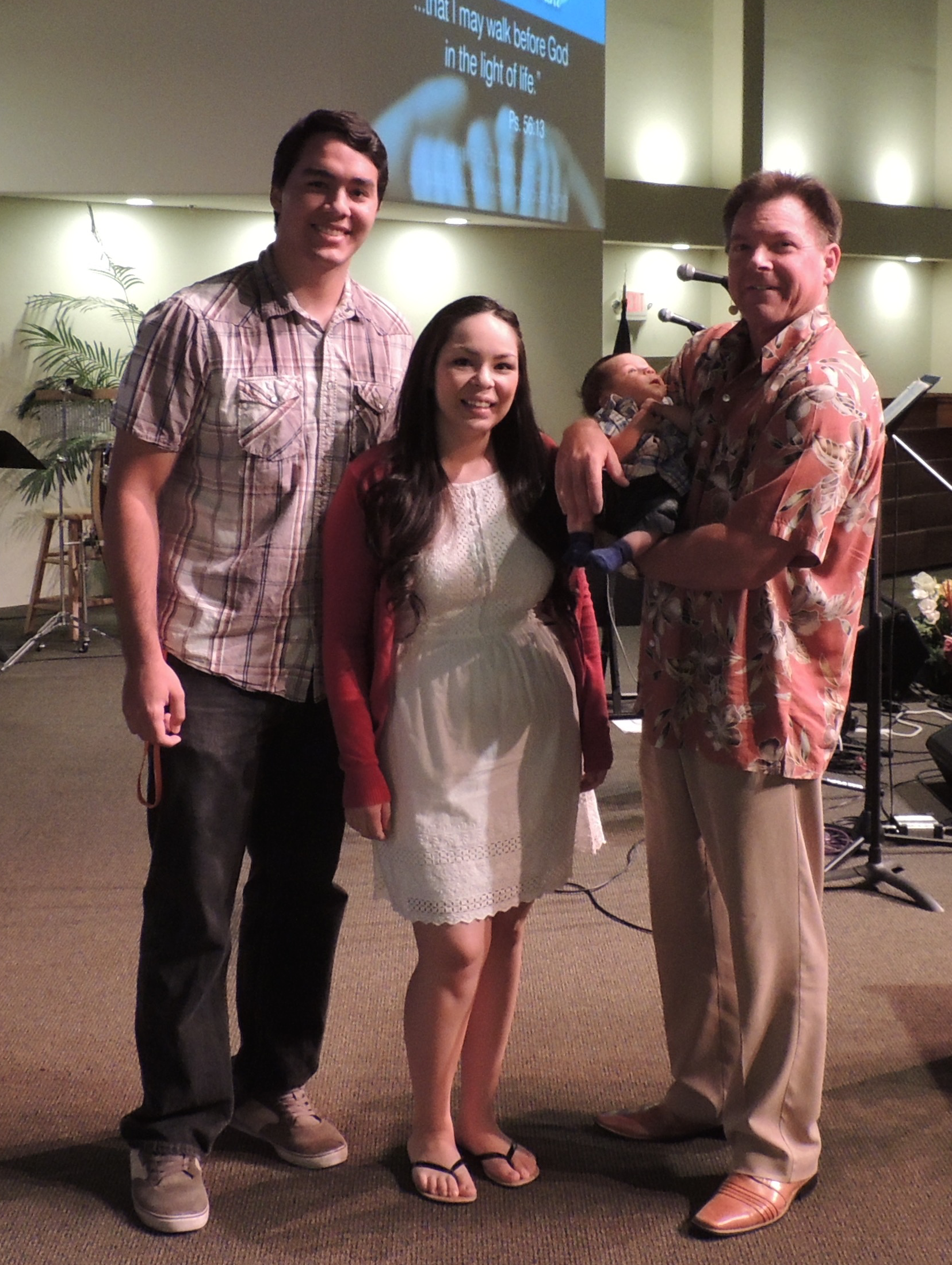 Baby dedication is an act by the parents to present their child to God and to make a life-long commitment to raise, nurture and train their child in the ways of the LORD. We have two examples of infant dedication.
- First, in one of the most beautiful passages in the Bible Hannah presented her young son Samuel to God in an act of child dedication (1 Sam 1:19-28):
Samuel Is Born and Dedicated
Then they rose early in the morning and worshiped before the LORD, and returned and came to their house at Ramah. And Elkanah knew Hannah his wife, and the LORD remembered her. So it came to pass in the process of time that Hannah conceived and bore a son, and called his name Samuel, saying, "Because I have asked for him from the LORD ." Now the man Elkanah and all his house went up to offer to the LORD the yearly sacrifice and his vow. But Hannah did not go up, for she said to her husband, "Not until the child is weaned; then I will take him, that he may appear before the LORD and remain there forever." So Elkanah her husband said to her, "Do what seems best to you; wait until you have weaned him. Only let the LORD establish His word." Then the woman stayed and nursed her son until she had weaned him. Now when she had weaned him, she took him up with her, with three bulls, one ephah of flour, and a skin of wine, and brought him to the house of the LORD in Shiloh. And the child was young. Then they slaughtered a bull, and brought the child to Eli. And she said, "O my lord! As your soul lives, my lord, I am the woman who stood by you here, praying to the LORD. For this child I prayed, and the LORD has granted me my petition which I asked of Him. Therefore I also have lent him to the LORD; as long as he lives he shall be lent to the LORD." So they worshiped the LORD there.
- Second, we experience the incredible and prophetic dedication of the Son of God, our Lord and Savior Jesus Christ by Joseph and Mary (Luke 2:22-35):
Jesus Presented in the Temple
Now when the days of her purification according to the law of Moses were completed, they brought Him to Jerusalem to present Him to the Lord (as it is written in the law of the Lord, "Every male who opens the womb shall be called holy to the LORD"), and to offer a sacrifice according to what is said in the law of the Lord, "A pair of turtledoves or two young pigeons." And behold, there was a man in Jerusalem whose name was Simeon, and this man was just and devout, waiting for the Consolation of Israel, and the Holy Spirit was upon him. And it had been revealed to him by the Holy Spirit that he would not see death before he had seen the Lord's Christ. So he came by the Spirit into the temple. And when the parents brought in the Child Jesus, to do for Him according to the custom of the law, he took Him up in his arms and blessed God and said: "Lord, now You are letting Your servant depart in peace, according to Your word; for my eyes have seen Your salvation which You have prepared before the face of all peoples, a light to bring revelation to the Gentiles, and the glory of Your people Israel." And Joseph and His mother marveled at those things which were spoken of Him. Then Simeon blessed them, and said to Mary His mother, "Behold, this Child is destined for the fall and rising of many in Israel, and for a sign which will be spoken against (yes, a sword will pierce through your own soul also), that the thoughts of many hearts may be revealed."
Here we bear witness two presentations / dedications of infants to God, one of little Samuel and the other of our Lord and Savior Jesus Christ; thus we follow the aforementioned examples. However, we must understand that "baby dedication" does not bring salvation to the baby; one day as the child grows and understands the message of salvation he or she must make a decision to repent of their sins and ask Jesus Christ, the Son of God, to be their Lord and Savior.
Baby dedication is a first step of parents to present their child to God in thanksgiving, as well as to petition their heavenly Father to guide, help and bless them with wisdom, knowledge and understanding from the Word of God by the power of the Holy Spirit to raise, train and nurture their precious one in the way, the truth and the life of Jesus Christ His Son. This act of dedication is presented before the church body, whereas, all Christians agree in prayer; saying truly, we are the family of God and will love this family and will help disciple this little one with God's grace, mercy and love! (The Apostle Peter blesses us with these words from 1 Peter 2:2-5 - as newborn babes, desire the pure milk of the word, that you may grow thereby, if indeed you have tasted that the Lord is gracious. Coming to Him as to a living stone, rejected indeed by men, but chosen by God and precious, you also, as living stones, are being built up a spiritual house, a holy priesthood, to offer up spiritual sacrifices acceptable to God through Jesus Christ.)
2) Parent & Family Dedication
The baby dedication is moment in time, a prayer, a fervent desire of parents to raise their children by example, as we are told in Colossians 3:14-17:
But above all these things put on love, which is the bond of perfection. And let the peace of God rule in your hearts, to which also you were called in one body; and be thankful. Let the word of Christ dwell in you richly in all wisdom, teaching and admonishing one another in psalms and hymns and spiritual songs, singing with grace in your hearts to the Lord. And whatever you do in word or deed, do all in the name of the Lord Jesus, giving thanks to God the Father through Him.
It is the Christian parent's daily dedication to Jesus Christ and His ways of love and grace by which this child will come to salvation and learn the Word of God. In the Old Testament we read from Deuteronomy 6:1-8:
"Now this is the commandment, and these are the statutes and judgments which the LORD your God has commanded to teach you, that you may observe them in the land which you are crossing over to possess, that you may fear the LORD your God, to keep all His statutes and His commandments which I command you, you and your son and your grandson, all the days of your life, and that your days may be prolonged. Therefore hear, O Israel, and be careful to observe it, that it may be well with you, and that you may multiply greatly as the LORD God of your fathers has promised you — 'a land flowing with milk and honey.' "Hear, O Israel: The LORD our God, the LORD is one! You shall love the LORD your God with all your heart, with all your soul, and with all your strength. "And these words which I command you today shall be in your heart. You shall teach them diligently to your children, and shall talk of them when you sit in your house, when you walk by the way, when you lie down, and when you rise up. You shall bind them as a sign on your hand, and they shall be as frontlets between your eyes. You shall write them on the doorposts of your house and on your gates."
As parents we are called to teach and train our children in the same way that Jesus teaches and trains us, Jesus said in John 13:34-35 - A new commandment I give to you, that you love one another; as I have loved you, that you also love one another. By this all will know that you are My disciples, if you have love for one another."
Our parental dedication is caught as well as taught by our example, such as:
(1) our personal study of the Scriptures (Psalm 1; 2Tim. 2:15),
(2) our personal prayer life and praying with our children (James 5:16- 17),
(3) our going to church and our family serving the body of Christ (Acts 2:40-46).
These examples of practical and purposeful Christian living will be passed on to our children; this is the true meaning of what we call "baby dedication" or shall we call it "life dedication" to Christ and one another. May you have a very blessed family and may your home flow with milk and honey!
God bless you always,
Pastor Derald
Philippians 4:19-20
3) Schedule a Baby Dedication

Call the church office to schedule your baby dedication for a Sunday morning at (808) 678-3994.