1) What is WATER BAPTISM?
2) When should I get BAPTIZED?
3) How should I get BAPTIZED?
---
1) What is WATER BAPTISM?
B – BELIEVE IN JESUS CHRIST!
To be water baptized one must first come to faith in Jesus Christ! Paul, the Apostle writes in Romans 10:8-13 - But what does it say? "The word is near you, in your mouth and in your heart" (that is, the word of faith which we preach): that if you confess with your mouth the Lord Jesus and believe in your heart that God has raised Him from the dead, you will be saved. For with the heart one believes unto righteousness, and with the mouth confession is made unto salvation. For the Scripture says, "Whoever believes on Him will not be put to shame." For there is no distinction between Jew and Greek, for the same Lord over all is rich to all who call upon Him. For "whoever calls on the name of the Lord shall be saved."
A – ACT UPON YOUR FAITH!
The Apostle Peter proclaimed on the "Day of Pentecost" - Acts 2:38-39 - Then Peter said to them, "Repent, and let every one of you be baptized in the name of Jesus Christ for the remission of sins; and you shall receive the gift of the Holy Spirit. For the promise is to you and to your children, and to all who are afar off, as many as the Lord our God will call." Water baptism will follow "faith in Jesus Christ", which coincides with "repentance," which is a turning away from sin, disobedience, or rebellion against God as well as a desire to know, love and live for God (Matt 9:13; Luke 5:32). Repentance means a change of heart, soul, mind, and lifestyle; instead of loving and living for self and selfish desires, you will begin to follow what Jesus said in Mark 12:29-31 - "The first of all the commandments is: 'Hear, O Israel, the Lord our God, the Lord is one. And you shall love the Lord your God with all your heart, with all your soul, with all your mind, and with all your strength.' This is the first commandment. And the second, like it, is this: 'You shall love your neighbor as yourself.' There is no other commandment greater than these."
P – PROLAIM PUBLICLY!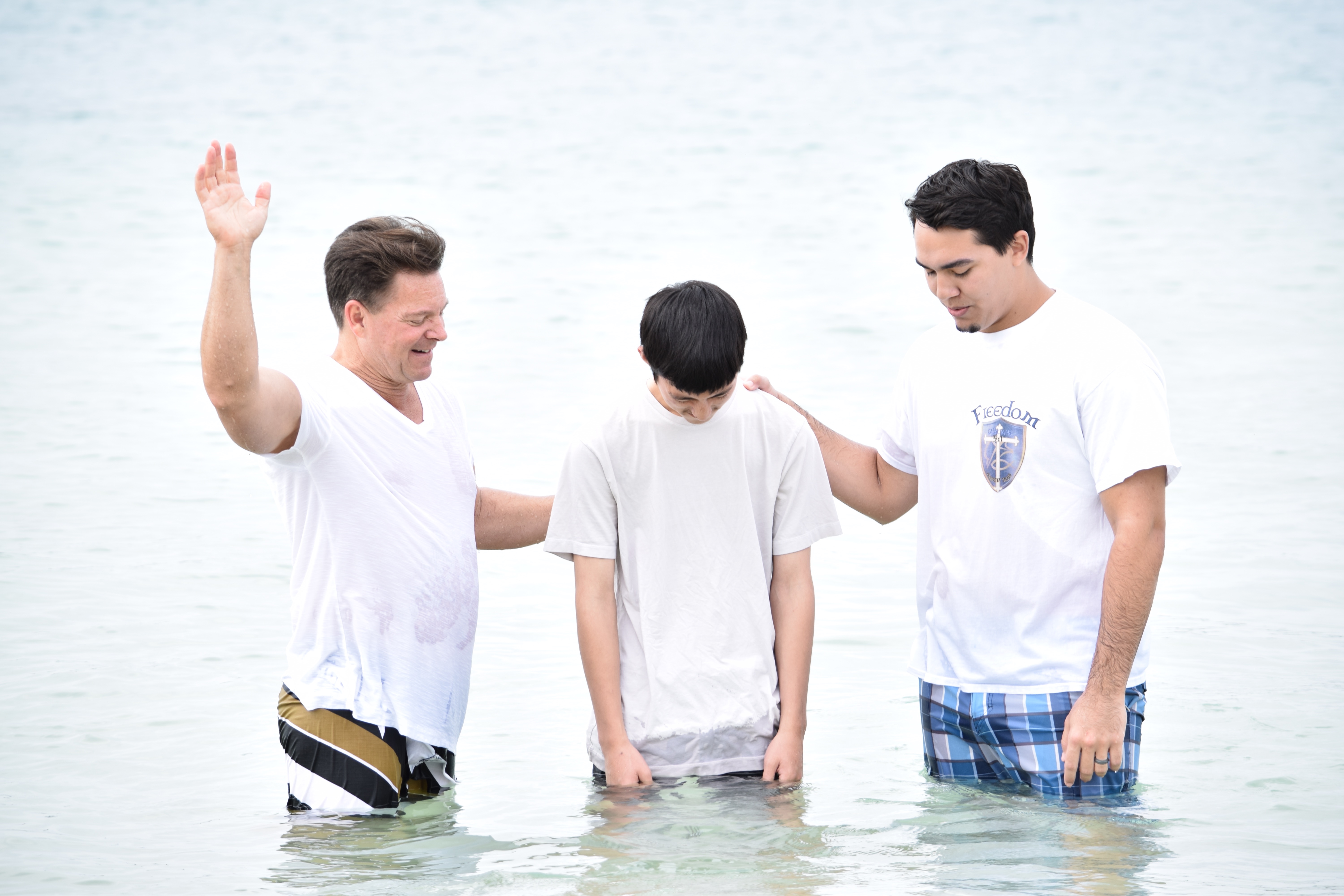 In Matthew 3:1-16 we have the proclamation and publication of water baptism, let's read, "In those days John the Baptist came p
reaching in the wilderness of Judea, and saying, "Repent, for the kingdom of heaven is at hand!" For this is he who was spoken of by the prophet Isaiah, saying: "The voice of one crying in the wilderness: 'Prepare the way of the Lord; Make His paths straight.'" Now John himself was clothed in camel's hair, with a leather belt around his waist; and his food was locusts and wild honey. Then Jerusalem, all Judea, and all the region around the Jordan went out to him and were baptized by him in the Jordan, confessing their sins. But when he saw many of the Pharisees and Sadducees coming to his baptism, he said to them, "Brood of vipers! Who warned you to flee from the wrath to come? Therefore bear fruits worthy of repentance, and do not think to say to yourselves, 'We have Abraham as our father.' For I say to you that God is able to raise up children to Abraham from these stones. And even now the ax is laid to the root of the trees. Therefore every tree which does not bear good fruit is cut down and thrown into the fire. I indeed baptize you with water unto repentance, but He who is coming after me is mightier than I, whose sandals I am not worthy to carry. He will baptize you with the Holy Spirit and fire. His winnowing fan is in His hand, and He will thoroughly clean out His threshing floor, and gather His wheat into the barn; but He will burn up the chaff with unquenchable fire." Then Jesus came from Galilee to John at the Jordan to be baptized by him. And John tried to prevent Him, saying, "I need to be baptized by You, and are You coming to me?" But Jesus answered and said to him, "Permit it to be so now, for thus it is fitting for us to fulfill all righteousness." Then he allowed Him. When He had been baptized, Jesus came up immediately from the water; and behold, the heavens were opened to Him, and He saw the Spirit of God descending like a dove and alighting upon Him. And suddenly a voice came from heaven, saying, "This is My beloved Son, in whom I am well pleased."
Baptism is a public proclamation, in this passage of Scripture we see people publicly turning from their sinful ways in repentance and turning God's love and grace. Jesus started His public ministry after His baptism; He set an example for all believers to get water baptized, this is as Jesus said, "it is fitting for us to fulfill all righteousness," meaning this is the right way for all born again believers.
T – TRUTH WILL SET YOU FREE!
In Romans 6:1-11 we read, "What shall we say then? Shall we continue in sin that grace may abound? Certainly not! How shall we who died to sin live any longer in it? Or do you not know that as many of us as were baptized into Christ Jesus were baptized into His death? Therefore we were buried with Him through baptism into death, that just as Christ was raised from the dead by the glory of the Father, even so we also should walk in newness of life. For if we have been united together in the likeness of His death, certainly we also shall be in the likeness of His resurrection, knowing this, that our old man was crucified with Him, that the body of sin might be done away with, that we should no longer be slaves of sin. For he who has died has been freed from sin. Now if we died with Christ, we believe that we shall also live with Him, knowing that Christ, having been raised from the dead, dies no more. Death no longer has dominion over Him. For the death that He died, He died to sin once for all; but the life that He lives, He lives to God. Likewise you also, reckon yourselves to be dead indeed to sin, but alive to God in Christ Jesus our Lord."
The symbolic truth of water baptism publicly displays Christ death and resurrection; whereas, the believer's water baptism says, "My old sinful man or woman is now buried (that is when we go down beneath the water), then coming up out of the water represents Christ blood washing away our sins; our walking out of the water is walking in the newness of life in Christ; you are born again of the Holy Spirit (John 3:3-8) and have received everlasting life!" (John 3:16 - For God so loved the world that He gave His only begotten Son, that whoever believes in Him should not perish but have everlasting life.)
I – I WILL GET WATER BAPTIZED!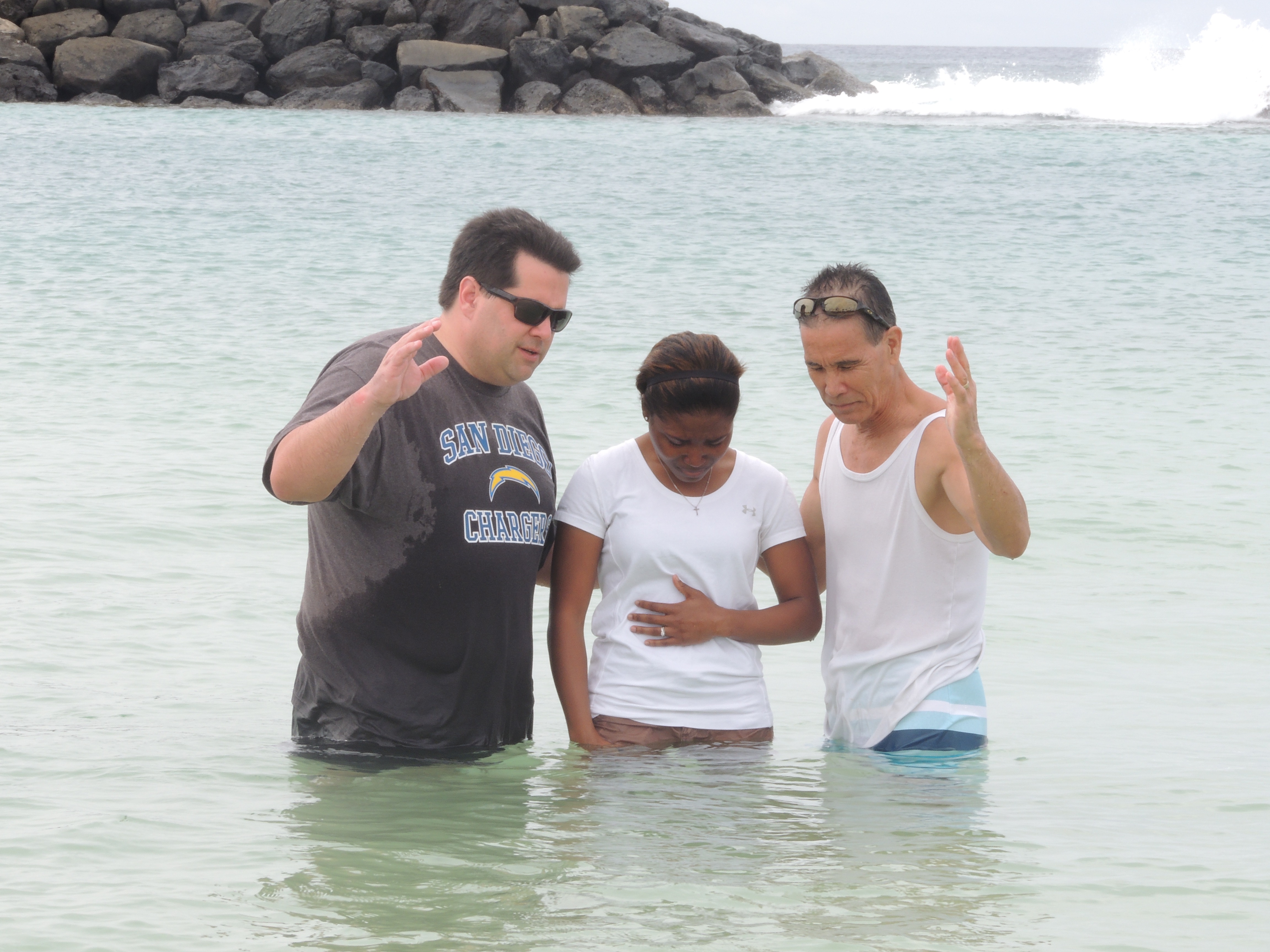 The following story from Acts 8:26-36 reveals a man's desire to get water baptized as a testimony of his salvation through Jesus Christ, "Now an angel of the Lord spoke to Philip, saying, "Arise and go toward the south along the road which goes down from Jerusalem to Gaza." This is desert. So he arose and went. And behold, a man of Ethiopia, a eunuch of great authority under Candace the queen of the Ethiopians, who had charge of all her treasury, and had come to Jerusalem to worship, was returning. And sitting in his chariot, he was
reading Isaiah the prophet. Then the Spirit said to Philip, "Go near and overtake this chariot." So Philip ran to him, and heard him reading the prophet Isaiah, and said, "Do you understand what you are reading?" And he said, "How can I, unless someone guides me?" And he asked Philip to come up and sit with him. The place in the Scripture which he read was this: "He was led as a sheep to the slaughter; and as a lamb before its shearer is silent, so He opened not His mouth. In His humiliation His justice was taken away, and who will declare His generation? For His life is taken from the earth." So the eunuch answered Philip and said, "I ask you, of whom does the prophet say this, of himself or of some other man?" Then Philip opened his mouth, and beginning at this Scripture, preached Jesus to him. Now as they went down the road, they came to some water. And the eunuch said, "See, here is water. What hinders me from being baptized?" Then Philip said, "If you believe with all your heart, you may." And he answered and said, "I believe that Jesus Christ is the Son of God." So he commanded the chariot to stand still. And both Philip and the eunuch went down into the water, and he baptized him."
S – SHARE YOUR SALVATION & BAPTISM WITH OTHERS!
In the Scriptures, we read of Paul and Silas sharing their faith in Jesus Christ while in prison, whereas, the unsaved jailor comes to faith in Jesus Christ and his family also receives salvation, as all are baptized. Be encouraged to share your salvation and baptism with your family and friends, invite them to your baptism, maybe they'll get saved by your testimony through baptism. Read Acts 16:25-34 - But at midnight Paul and Silas were praying and singing hymns to God, and the prisoners were listening to them. Suddenly there was a great earthquake, so that the foundations of the prison were shaken; and immediately all the doors were opened and everyone's chains were loosed. And the keeper of the prison, awaking from sleep and seeing the prison doors open, supposing the prisoners had fled, drew his sword and was about to kill himself. But Paul called with a loud voice, saying, "Do yourself no harm, for we are all here." Then he called for a light, ran in, and fell down trembling before Paul and Silas. And he brought them out and said, "Sirs, what must I do to be saved?" So they said, "Believe on the Lord Jesus Christ, and you will be saved, you and your household." Then they spoke the word of the Lord to him and to all who were in his house. And he took them the same hour of the night and washed their stripes. And immediately he and all his family were baptized. Now when he had brought them into his house, he set food before them; and he rejoiced, having believed in God with all his household.
M – MISSION COMMAND FROM JESUS CHRIST!
Mission accomplished, you are saved through Jesus Christ, loved by your heavenly Father, filled the Holy Spirit and water baptized, thus you may be asking, "Now what do I do?"
Let's take a look at the blueprint for the early church and all believers in Acts 2:38-42, "Then Peter said to them, "Repent, and let every one of you be baptized in the name of Jesus Christ for the remission of sins; and you shall receive the gift of the Holy Spirit. For the promise is to you and to your children, and to all who are afar off, as many as the Lord our God will call." And with many other words he testified and exhorted them, saying, "Be saved from this perverse generation." Then those who gladly received his word were baptized; and that day about three thousand souls were added to them. And they continued steadfastly in the apostles' doctrine and fellowship, in the breaking of bread, and in prayers."
> Here we find 5 keys that makes a Christian strong, stable, sanctified and a soul-winner!
Key #1 – "continue steadfastly" – Be consistent in your faith, day by day!
Key #2 – "the apostle's doctrine" – This means love, learn and live the Bible!
Key #3 – "fellowship" – That is go to a Bible teaching church regularly!
Key #4 – "break bread" – Have communion, at home, in church, as God leads!
Key #5 – "prayers" – Pray all the time, talk to God and He will talk to you!
As you grow in your faith you will look forward to leading others to salvation and will follow the command of our Lord and Savior Jesus Christ in Matthew 28:18-20 - And Jesus came and spoke to them, saying, "All authority has been given to Me in heaven and on earth. Go therefore and make disciples of all the nations, baptizing them in the name of the Father and of the Son and of the Holy Spirit, teaching them to observe all things that I have commanded you; and lo, I am with you always, even to the end of the age." Amen.
2) When should I get BAPTIZED?
Water baptism does not save, it is a sign or testimony of your salvation! Water baptism comes after salvation, salvation comes when one is old enough to cognitively understand what faith in Jesus Christ through repentance is, and how it brings the remission of sins. Jesus said in Luke 24:46-49 - Then He said to them, "Thus it is written, and thus it was necessary for the Christ to suffer and to rise from the dead the third day, and that repentance and remission of sins should be preached in His name to all nations, beginning at Jerusalem. And you are witnesses of these things." For your information baptizing babies is not a Biblical practice. Babies are unaware of salvation through Jesus Christ and thus they should not be sprinkled or baptized until they are old enough to come to Jesus Christ for salvation. Although some religions practice infant baptism, it means nothing and is unbiblical. It is important that we learn and practice that which is taught and practiced in the Holy Scriptures.
3) How should I get BAPTIZED?
The Biblical practice for water baptism is full immersion, however, we know and understand water baptism is not the means of salvation, only faith in Jesus Christ brings salvation (John 3:1-17). Water baptism is a testimony of our salvation, so what if someone dies who is saved, but never got water baptized, will they go to heaven? The answer is an emphatic YES! We are saved by and through the blood of Jesus Christ!
Romans 3:21-26 - But now the righteousness of God apart from the law is revealed, being witnessed by the Law and the Prophets, even the righteousness of God, through faith in Jesus Christ, to all and on all who believe. For there is no difference; for all have sinned and fall short of the glory of God, being justified freely by His grace through the redemption that is in Christ Jesus, whom God set forth as a propitiation by His blood, through faith, to demonstrate His righteousness, because in His forbearance God had passed over the sins that were previously committed, to demonstrate at the present time His righteousness, that He might be just and the justifier of the one who has faith in Jesus.
I've known some people who are deathly ill unable to get water baptized, they've come to faith in Jesus Christ and want to be baptized, but are unable, so we sprinkled a very small amount of water on them, because they so desired baptism, this was their personal testimony to share with others. Yet, some do not have this opportunity, thus like the thief on the cross, Jesus simply said, "Assuredly, I say to you, today you will be with Me in Paradise." (Luke 23:43)
I hope and pray that you have be blessed through this brief teaching on water baptism, now let's "GO FOR GOD!"