There are different ways to serve at Calvary Chapel Pearl Harbor during our service times. We are always in need of friendly people to greet others and help to make their visit to Calvary Chapel Pearl Harbor a pleasant experience.

Aloha Ministry
The Aloha Ministry greets and welcomes visitors to our church with a "holy hug" and a big smile at the end of service. They are available for questions and direct people to the various ministries here at CCPH.
Hospitality Ministry
The Hospitality Ministry is provided every Sunday morning after each service practicing the gift of hospitality to the body of Christ. The Hospitality Ministry provides snacks in the Fellowship Hall after the morning services.
God's love is shown by greeting His people and making them feel welcomed.
The Hospitality team may be asked to arrive up to one hour before service depending on the assigned duties.
New Believer's Counseling Ministry
The New Believer's Ministry serves by involving men and women in the area of counseling the new believers and those returning to the faith.
Usher's Ministry
The role of the Usher's Ministry is to greet and help facilitate the seating in the Sanctuary, receiving the tithe offerings and distribution of the communion elements.
They also provide security in the parking lot, sanctuary, and throughout the church property.
Ushers are asked to arrive between an hour and a half to a half hour before service begins depending on the assigned duties.
If you do not know where to begin serving, then a Welcome Ministry is a great place to start!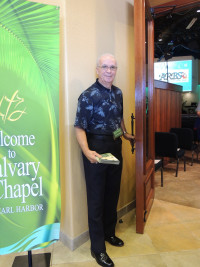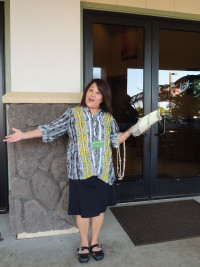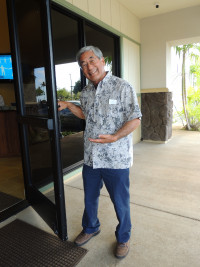 What we request of our volunteers: (Exceptions will be evaluated on a case by case basis.)
1) Attended Calvary Chapel Pearl Harbor for at least 2 months
2) Arrival time before service varies by assigned duties
3) We prefer that volunteers attend 2 services a week
4) Availability for special events
If you are interested in serving in any of these ministries, please contact Pastor Bob Fukui at 808-678-3994.